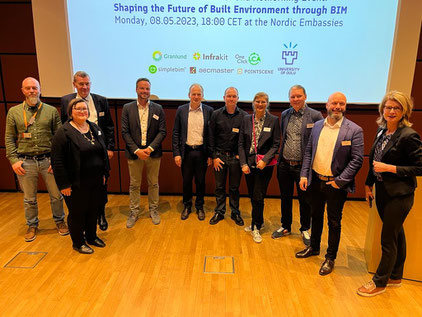 Finnish- German BIM Seminar and Networking event "Shaping the Future of Built Environment through BIM", Monday, 08.05.2023 at the Nordic Embassies
The Embassy of Finland in Berlin, the organizers of the Finnish BIM Pavilion at the BIM World Munich and Business Finland Germany invited to a first Finnish-German BIM event at the Nordic Embassies in Berlin in May 2023.
Building Information Modeling (BIM) has already revolutionized the construction industry, and it will continue to significantly shape the future of architecture, civil engineering and infrastructure development.
In this BIM Seminar and Networking Event the topics were how BIM is currently utilized in Finland and Germany and what benefits and opportunities BIM can bring for the construction industry from building permit development to the infrastructure sector and from building owners and construction companies to all construction professionals.
After the seminar with four short keynotes and the six interesting "teasers" from the Finnish BIM companies followed a lively networking event and brought together Finnish and German construction professionals and government representatives in the industry in an open atmosphere.
We thank all speakers and participants who were interested in this event! Special thanks belongs to the Ambassador of Finland Anne Sipiläinen for the opening speech and the Embassy Team for the organisation for this event at Felleshuset. 
There are lots of interesting cooperation opportunities between Finland and Germany to shape together the future of Built Environment through BIM more effective, cost-saved and sustainable in der Future.
Don´t hesitate to contact the companies and/or the Finnish BIM Pavilion Team for more information.  
Shaping the Future of Built Environment through BIM - Agenda
Monday, 08.05.2023, 18:00 CET
at the Nordic Embassies, Rauchstraße 1, 10787 Berlin
INVITATION-Finnish-German-BIM_Seminar_an
Adobe Acrobat Dokument
620.1 KB
Current BIM-developments in Finland and Germany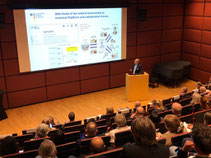 Dr. Christian Schlosser, Head of the Unit - Digital Transformation of the Infrastructure Sector, German Federal  Ministry for Digital and Transport
Policy Initiatives by the German Federal Government to advance BIM deployment and digitalization in the Infrastructure Sector
FI-DE-BIM_Seminar 08-05-2023_BMDV_BIM In
Adobe Acrobat Dokument
669.7 KB
Pekka Virkamäki, Senior Legal Advisor, Ministry of Environment of Finland
Reform of the Building Act in Finland and BIM-based Building Permit development
Berlin 08052023 PVi.pdf
Adobe Acrobat Dokument
762.8 KB
Prof. Markus König,  André Vonthron,  Ruhr-University of  Bochum (RUB)
Case studies for BIM-based local Building Permits in Germany
2023-05-08_BIM_Permit_Germany.pdf
Adobe Acrobat Dokument
760.4 KB
Tanja Kolli, Researcher, University of Oulu  
Autonomous work machines are changing infra structure construction sites
Autonomous for Berlin_ 08052023 Kolli.pd
Adobe Acrobat Dokument
14.9 MB
Finnish companies' innovative BIM Solutions
Anna-Riitta Kallinen, ARKCON
Short introduction to OpenBIM ecosystem in Finland
Short introduction to OpenBIM ecosystem
Adobe Acrobat Dokument
449.3 KB
Stefan Argiriu, Managing Director DACH, Infrakit
Opportunities for owners and construction companies through digital construction
20230508 Infrakit.pdf
Adobe Acrobat Dokument
594.9 KB
Jouni Ojala, Director, Granlund
Use of data in Nordic BIM - Granlund 4D Scheduling Service
Granlund 4D scheduling services 2023-05-
Adobe Acrobat Dokument
1.4 MB
Sakari Lehtinen, Co-Founder, Simplebim
Turning raw BIM data into easy-to-use information and actionable insights for every construction professional
Datacubist_Simplebim.pdf
Adobe Acrobat Dokument
891.6 KB
Anssi Auvinen, CEO & Founder, Aecmaster
New way to design buildings via next generation BIM across all business systems
aecmaster_Suomen suurlähetystön esitys B
Adobe Acrobat Dokument
1.8 MB
Peter Gyenge, Business Development Engineer (DACH region), OneClick LCA
Using BIM for automated Life Cycle Assessments (LCA)
One Click LCA_Presentation_20230508.pdf
Adobe Acrobat Dokument
1.4 MB
Jeremia Hokkanen,Technical Account Manager, Pointscene
Harmonizing reality capture & openBIM: Building faster & saving millions
Shaping the future, Finnish BIM 20230508
Adobe Acrobat Dokument
2.4 MB
Finland has been among the earliest adopters of Building Information Modeling (BIM) and therefore is a key player in driving the innovations for the AEC industry.
The basis is in OpenBIM, which has been set as a standard by governmental stakeholders. However, OpenBIM is not only driven by the government. Currently, the entire AEC industry and the enthuastic people behind the varios companies support OpenBIM!
The Finns are very open to future Finnish-German cooperation with the BIM topics.
For more information, please, contact
Finnish BIM Pavilion Team 
Ms. Anna-Riitta Kallinen (English)
+358 40 770 9799
anna-riitta.kallinen(at)arkcon.fi
Ms. Hannele Zilm-Schulz (Deutsch)
+49 173 6001211
hannele(at)findeconnect.com