BIM World MUNICH 2023 - established trade fair for digital solutions in the construction industry take place from November 28 - 29 in Munich. Finland has accompanied BIM World MUNICH since 2017 and it has always been represented with its own Finnish BIM Pavilion.

Last year in 2022 Finland was official Partner Country at the BIMWorld Munich. Also the Finnish Minister for Development Cooperation and Foreign Trade, Mr. Ville Skinnari, participated virtually in the Welcome Session on Day 1 at the BIMWorldMunich Fair. You can watch his speech in the attached video:
Finland has been among the earliest adopters of Building Information Modeling (BIM) and therefore is a key player in driving the innovations for the AEC industry.
The basis is in OpenBIM, which has been set as a standard by governmental stakeholders. However, OpenBIM is not only driven by the government. Currently, the entire AEC industry and the enthuastic people behind the varios companies support OpenBIM!
In addition, visitors to BIM World MUNICH once again has the  opportunity to attend our traditonell Finnish Get Together with typical Finnish specialties on the first evening, hosted by the exhibitor of the Finnish BIM Pavilion and supported by Business Finland.
Anna-Riitta Kallinen, Owner of ARK Consulting/ARKCON, is nordic Ambassador of BIM World MUNICH and supports the export business and marketing for Finnish BIM companies with great  commitment and success.
"Part of the inspiring spirit of the Finnish pavilion is the open BIM collaboration that has a strong foothold in Finland. Common national BIM requirements and open innovative approach to BIM motivates companies and their clients to appear side by side also in this most important annual German BIM venue. Every year of attendance has brought added value to the companies in terms of client collaboration, latest developments in the German market and networking with overseas partners." 
The Finns are very open to  future Finnish-German cooperation in the BIM business. Please contact the companies directly (you can find the list of companies below)  or our BIM Pavilion Team, if you need support in this regard.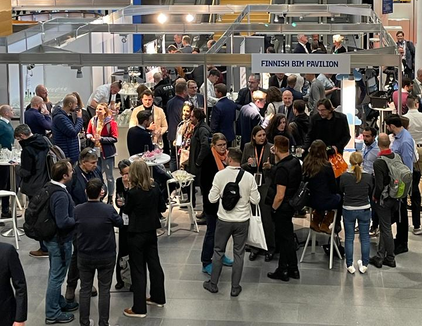 The following leading Finnish players with innovative, digital solutions in the construction sector present their latest service ideas and technologies at BIMWorld 2023:
Infrakit - Your digital transformation partner who enables successful and sustainable infra projects by connecting people and data  
Infrakit is a cloud service for infrastructure construction projects with a vision of a sustainable infra-industry. As an independent platform, integrating all brands of CAD systems, surveying equipment and heavy machinery control systems it enables unprecedented real-time command and control of the site leading up to 20% savings in total project costs. It offers real-time situation awareness and data flow to and from the construction site, shared by all project parties. The company has been helping its customers to digitalize their infra projects since 2010, with over 30 billion euros of infra-assets built with Infrakit in more than 2000 projects in 11 countries.
One Click LCA is the world-leading Life Cycle Assessment and Environmental Product Declaration (EPD) generation software for the construction industry. One Click LCA helps to decarbonize building and infrastructure projects, to create product EPDs, to benchmark low-carbon products and projects and to create corporate greenhouse gas reports. It is used in more than 120 countries, includes the world's largest construction sector database and supports over 60 standards and certifications.
Granlund is the leading BIM expert in sustainable digital lifecycle implementation and the Finnish market leader in MEP. Outside Finland, Granlund operates in Asia, the Middle East, the Nordic and Baltic countries and the United Kingdom, among other locations. They employ 1,300 experts with over 60 years of innovative history. Granlund's key goal is to make properties more functional and smarter and to improve human well-being in the built environment.
Simplebim® is a revolutionary open BIM data wrangling software. Positioned at the forefront of the digital revolution, Simplebim® empowers planners, BIM-teams and -consultants, construction companies and owners to make their BIM data fit for purpose and to automatize processes. Whether you are preparing BIM models for quantity take-off, cost estimation, site surveying, energy analysis, building permit, production planning, scheduling, procurement, tendering, logistics, or handover to facility management; whether you are handling individual models or batch processing tens of thousands; Simplebim® is the most performant software on the market to smartly and efficiently standardize, normalize and enrich IFC models. Developed by world-leading open-BIM experts. Used by the world's leading companies. Join today the BIM data wrangling revolution! 
Sova3D, Studio of Virtual Architectur, has been founded 2015 with over 20 years experience of 3D systems and software development. Our key compentece is 3D web browser based 3D city models and applications. Base is 3D city model read from various public and private datasources. First app's are developed for Building Permission Process, Collaborative Townplanning on web-browser and Building Project Management on web browser. Our development is relaying on open standards as OpenBIM (IFC), CityGML and alike. We are also co-operating with other companies to produce world-class solutions for demanding clients.
Cloudpermit is a cloud-based, online building permitting software for local governments. Providing an end-to-end paperless experience, Cloudpermit's solutions has transformed how people collaborate with all stakeholders in a digital environment, bringing more transparency, improved efficiency and better quality into permitting. Today, Cloudpermit is leading the way in BIM-based building permitting, by introducing seamlessly integrated, cutting-edge BIM technologies to its users. Cloudpermit is used by 850+ governments in Finland, Canada and in the USA.
The University of Oulu's special strength is bringing science and the different actors of society closer together
The University of Oulu aims to be among the best places in the world to do research in following areas:
- Strengthening research in emerging fields and multidisciplinary activities
– Systematically monitoring and developing the quality of research
– Developing high-quality research infrastructures
– Promoting responsible research and the utilisation of open information
Click on these photos for short videos
OpenBIM Infra project
The world's #1 construction LCA & EPD software
RAVA3Pro project pilot: 4D scheduling in Perhelä -area in Järvenpää, Finland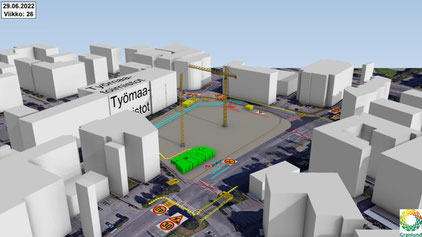 The agenda and topics of the Finnish experts at BIMWorld Munich 2023:
Prof. Andre Borrmann, TUM  and Prof. Rauno Heikkilä from Oulu University
"Autonomous Swarm for Infrastructure Construction"
at 29.11 at 10.40 am at Congress Stage 3.
Mr. Juha Liukas, Leading adviser - Sitowise Group Oyj, Doctoral Researcher, Tampere University, Research Centre Terra
Expert Panel "BIM4Infrastructure"
at 28.11 at 2 pm at Congress Stage 3
Mr. Jukka Vasara Vice President - Granlund Group, Chair of Board Integrated Hospital Design Alliance 
Expert Panel "BIM4Hospital" – Complex hospital project based on openBIM
at 28.11 at 13.15 at Congress Stage 3

For more information, please, contact
Finnish BIM Pavilion Team 
Ms. Anna-Riitta Kallinen (English)
+358 40 770 9799
anna-riitta.kallinen(at)arkcon.fi
Ms. Hannele Zilm-Schulz (Deutsch)
+49 173 6001211
hannele(at)findeconnect.com
In Cooperation with